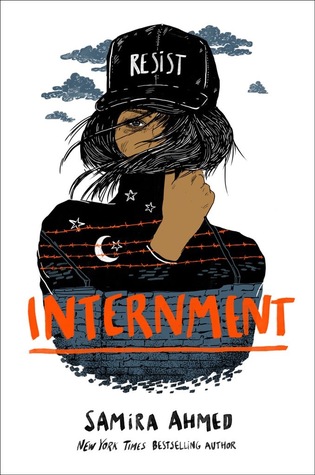 Internment by Samira Ahmed
Genre: YA Contemporary Fiction
Rating: ★★★★☆
CW/TW: racism, physical violence
A lot of books and stories written with what-if perspectives that I've read tell tales of a post-apocalyptic world fraught with social injustices and warring factions of a broken government. More often than not, the stories were entertaining and left a message to be thought of. Internment, by Samira Ahmed, offers a what-if that is much more jarring and shocking, if only because it isn't a future we see several decades later like the Hunger Games, but a future that could be in just a few months or years.
Fans of The Handmaiden's Tale would likely not be able to put this book down. Internment is about a society that decides to put the Muslim population of America into Internment camps, and is told through the eyes of Layla Amin, seventeen years old and the rebellious teen that a YA reader would expect her to be. The camp is set up in Manzanar, a real-life American concentration camp that had been set up for Japanese Americans during World War II, not too long after the 2016 presidential elections (the name of the president in question is never explicitly stated).
A lot of parallels are drawn between the horrors of concentration camps of World War II and the events of the book. It's a book with a lot of quotes worth highlighting, sizing up in font, and making huge posters of, seriously. I lost track of the amount of times I shouted "YASS QUEEN" in the first half of the book, when Layla finds her life turned upside down when she and her family are rounded up to be taken to the internment camp.
The latter half of the book, however, seemed to be rushed with lots of questions left unanswered. I'm all for the teenage girl leading a revolution (which seems to be a popular YA theme, but a beloved one), but her motivations seemed to be focused on her love interest who didn't seem to garner much sympathy. David (the boyfriend) garnered little sympathy and Jakes the guard that becomes an important figure in Layla's lifes, seems to have no discernable motivation for his actions. Why is he there? What's the story behind his actions? The villain himself ends up being a little extreme that he ends up becoming a little unbelievable. I thoroughly enjoyed the book itself, and give it a four stars, but there was still room for improvement. I would still recommend this to book lovers, because much of the thoughts and fears of the main characters are very real and must be told.
I had the pleasure of reading this ARC of Internment, sent to me by THE NOVL. Look out for the release of this book in March 2019!